MARK NORMANDY BA Hons. (OU)
Diploma in European Humanities
Diploma in Classical Studies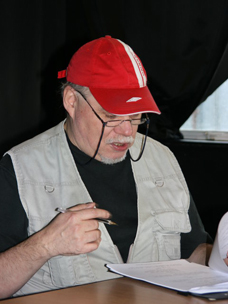 Mark has spent much of his creative life as an actor, writer and director with critical acclaim in the theatre, film and television industry. He has run his own theatre company 'Hot Toddy' productions successfully for several years.
Produced a stunt performance fight team called Fighters and Fools and by the early nineties was an associate director with the Dukes Head theatre in Richmond, Surrey.
He has directed over twenty-four theatre productions and tours to date and developed his own corporate video company, Elegantia Productions, with another seven video productions added to a growing list. Worked with actors such as Brian Blessed (Seven Swords. Future Vision Films) and Richard Briars (Academy Corporate Presentation) helped Mark to develop an understanding of the art of the screen actor and their relationship to the camera.
Whilst pursuing his career Mark explored an interest in teaching screen acting and show reel development for student actors along with a series of crash courses for beginners at an established drama school in London. It was through this experience that the idea of creating a school exclusively dedicated to screen acting took root and in 2002 the International School of Screen Acting was created. Mark has a new project under development at StarLite Studios consisting of micro courses and audition surgeries for the professional screen actor.
For more information please ring us on 020 8709 8719 or email us via our contact page