US ACCENT AND PILOT SEASON WORKSHOPS
Wednesday 17th, Thursday 18th & Friday 19th August 2022
CLICK HERE TO APPLY

This three day course includes a full day's introduction to the general American accent followed by a detailed, intensive course in preparing for pilot season auditions and self-tapes.
You'll be workshopping scenes in pairs with direction, feedback and tailored exercises which focus on taking ownership of the accent, approaches to text and acting technique.
Day 1 will be spent on the US accent. We'll take a step by step approach on how to break this accent down and understand it - which is a useful skill for approaching any accent or vocal technique - and work together on refining the accent, learning to take ownership of it so you feel comfortable working in it and applying it to some mock audition scenes.
On Day 2 each actor will be assigned an audition scene to work on and put into pairs for a full day of workshopping. We'll look at approaches to text, how to glean as much information as possible from just your audition sides (sometimes you don't get to read the whole episode!) and creative ways to explore the scene, as well as acting and camera technique.
On Day 3 we will refine our pieces and tape a mock audition then share useful and constructive feedback on the process and the end result.
Over the duration of the course actors should feel that they have gained some useful tools to prepare any audition piece and be well on the way to working confidently in a US accent.
Price: £225
---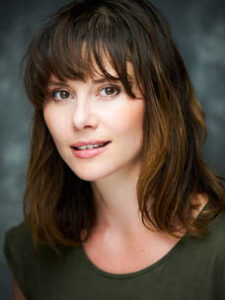 OLIVIA MACE
https://www.imdb.com/name/nm3222977/?ref_=fn_al_nm_1
Olivia is an actor, improviser and writer.  She's been teaching alongside her acting work for 10 years with Theatre Peckham, Creation Theatre, Tricycle and Shakespeare's Globe.
TV includes; Dominion (Syfy USA), The Bill (ITV), Doctors (BBC) and multiple commercials.
Film includes; Eliminators (WWA) and multiple independent films.
Theatre includes; Much Ado About Nothing, The Tales of Hans Christian Anderson (Creation), A Small family Business (Theatre Clwyd), Hay Fever, The Blue Room, Keep Smiling Through (Theatre by the Lake), Black Coffee (UK No 1. tour)
Olivia produced her improvised Cabaret Blinkface at Vaults Festival and Crazy Coqs, wrote and produced satirical music videos - Hipster Hop and You Know All the Signs (YouTube) - and has written songs for  Crazy Coq's show Dirty Word and the comedy pilot RightSwipe (Skinny Dip Productions).
Other writing credits include Dancing Shoes at the Southwark Playhouse (Little Pieces of Gold Festival) Playing the King and Bleak House (Creation Theatre) and TV series Sitting on the Hill (Skinny Dip).
Olivia specialises in improvisation and devising for screen.
For more information please ring us on 020 8709 8719 or email us via our contact page